Massive Christmas Round-Up Family Gift Guide!
Here at DadGeek we're always on the look out for cool stuff. Whether it's a new gizmo, a new toy or something special for parents we've been getting hold of it and giving it a good round-up. This year we've been lucky enough to have meet some really cool companies and those companies have often sent us some of their stuff to try out. I like to think that, despite our tender years (or technically months) that we've garnered a reputation for finding cool stuff and bringing it to our readers. One thing we've begun particularly focusing on is toys (OMG we LOVE toys!) and we've seen a good few of those. We're also huge fans of unboxing subscription boxes so, where we can, we've been trying to get hold of those too. As we get bigger, we've seen more and more companies send us some really cool ones to try out.
Now, at the time of year when everyone's got their eye out for something cool to put under the tree, we've slung together our hot tips from the cool stuff we've seen this year. Enjoy!
Toys & Games

British Touring Car Championship Scalextric
I can remember having a Scalextric as a kid and when we were sent one to review, all those memories came flooding back. There's nothing more Christmassy than laying on your front surrounded by bits of discarded wrapping paper, racing those tiny cars around the track whilst mum or dad are busy getting the turkey sorted. We'll definitely be getting ours out again this Christmas, if only at the insistence of eager family members keen to show their skills on the track.
Review: Scalextric British Touring Cars Racing Track Set
Check it out at Amazon.co.uk

Randomise
This is the first card game we've been sent but we quickly got it out when there were a bunch of us getting together. Loosely based around the charades/Pictionary idea of communicating an idea quickly for points, Randomise is a solid favourite for those post-dinner hours fighting off the turkey snoozes. Simply act, describe or draw your unique scenario and try to get the rest of your team to guess if you're a snorkelling turtle with a mohawk or a studious yeti starting a fire.
Review: We played RANDOMISE!
Check it out at Amazon.co.uk

DC Super Friends Large Cool Sounds Harley Quinn
It's a fairly widely known fact among my friends that I have a ever-growing Harley Quinn obsession. So when we were sent a cuddly one to review I jumped at the chance… and promptly had it nabbed by my daughter. It's a lovely plush toy and a welcome alternative to the usual bears and rabbits. If you can stomach another talking toy in your house, you could do worse than this tiny villain.
Review: DC Super Friends Large Cool Sounds Harley Quinn 
Check it out at Amazon.co.uk

Cubetto
It's a huge injustice to list Cubetto under 'toys' because that's a massive understatement of what Cubetto is. Cubetto is a programmable robot that teaches children computational thinking without sitting them in front of a screen. We thoroughly enjoyed Cubetto and the educational benefits are clearly huge. Cubetto is a fun, engaging activity that switches kids on to the basic concepts of programming without them even realising.
We played with a Cubetto Playset! 
Review: PRIMO – Beginning computer programming for kids
 
Check out Cubetto at PrimoToys.com

Sands Alive Create & Glow Set
As parents of a SEN child we always welcome sensory toys and this was one of the coolest we've seen so far. Not only was it a squashy, pliable material but it can also glow in the dark with a special pen. We had a really cool time making castles and then using the pen to give them a spooky glow. It's also pretty clean and tidy too. Having experienced a lot of dough-style craft materials, it was a real relief not to have to dig this one out of the carpet!
Review: Sands Alive Glow
Check it out at Amazon.co.uk

Transformers: The Last Knight Giant RC Bumblebee Car
One of our first big toys this year, this lightweight remote control car has been so roughly contested amongst the children that we nearly had to work out a rota. It's surprisingly nippy and the kids have spent ages noisily weaving it in and out of furniture. If you're looking for a good sturdy entry-level RC car that can make it past new years day, this could be worth getting under the tree.
Review: Transformers: The Last Knight Giant RC Bumblebee Car
Check it out at Amazon.co.uk
Subscription Crates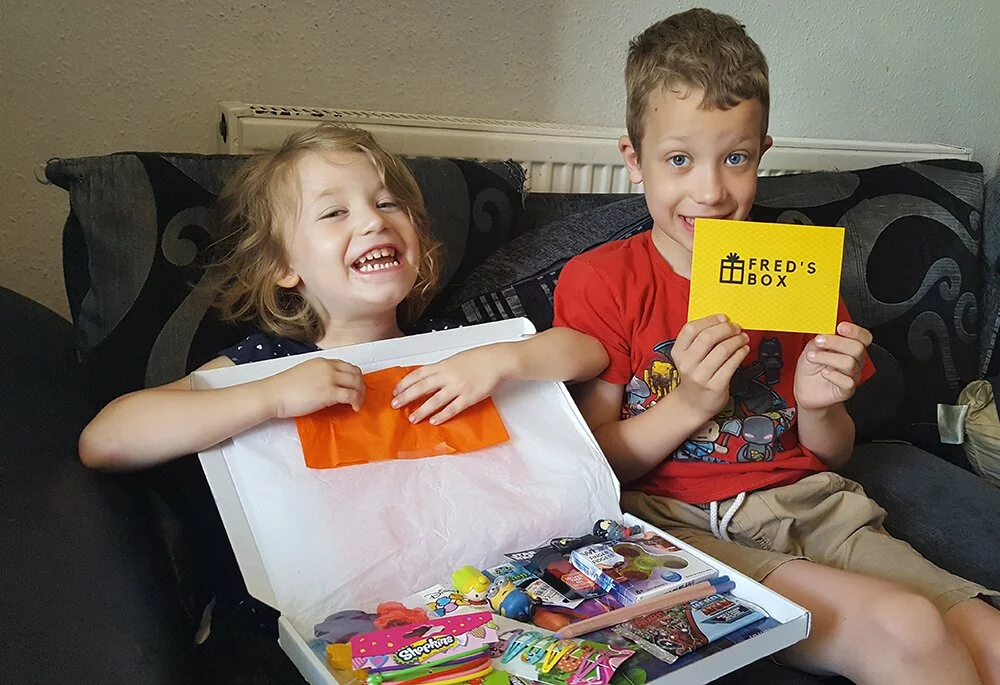 Fred's Box
Fred's Box was the first subscription service that sent us a box and both Claudia and Marshall loved all the stuff that came inside. There was a good mix of cards, arty stuff, toys and books to keep them both busy for the afternoon. Fred Box do a range of different options depending on the age of the recipient and what they're into. They also go the extra mile to try and tailor their boxes for maximum excitement! The most important thing for this list is that Fred Box offer one-off crate purchases so you can grab one as a stocking filler without signing up for more.
Unboxing a Fred's Box!
Visit fredsbox.co.uk

My Sensory Crate
As parents of a kid with ASD, we really appreciate it when companies go the extra mile to create stuff that really appeals specifically to our kids. My Sensory Crate is a monthly subscription crate that contains a selection of items designed or selected to appeal to people with sensory disabilities such as Sensory Processing Disorder (SPD) or Autism Spectrum Disorder (ASD). The selection of stuff we've seen across two crates is definitely worth giving it a go.
Review: My Sensory Crate
Review: My Sensory Crate – November Crate!
Check out MySensoryCrate.com

DaGaShi
We've tried out other Japanese snack boxes but DaGaShi were the first to offer us a box to try so they're pretty special to us here at DadGeek. Other crates are slightly bigger but DaGaShi's offering works out really decent value if you compare available price plans. The box we tried was an awesome combo of fan favourites and new, interesting stuff we hadn't seen before. Definitely something a bit different.
Video: We open a box of snacks from DaGaShi!
Visit DaGaShi
Useful Stuff

Water Wipes
I'm by no means suggesting that the best possible present one might find under the tree is a bumper pack of wet wipes. That said, Water Wipes supported us early on so I'm flinging them in here as my 'wipe of choice'. If you can get through an average day, nevermind the holiday season, without ploughing through several packs of wipes, your kids must have way more balance, self-control and general awareness than mine do.  The wipes were pretty good and I also found that it was rare for wipes to clump together which is my own personal benchmark for excellence.
Father's Day: Arts & Crafts with WaterWipes
Check it out at Amazon.co.uk

Funky Tape Measure
Funky Tape Measure make awesome personalised tape measures. They sent us one with the epic DadGeek logo on it and it now gets a lot of use in all the DIY tasks around the house that I will eventually do one day. These are an ideal stocking filler for anyone who usually takes care of all the repair jobs or carpentry in your house. We think they're a really neat idea.
How tall are the kids? We find out with funkytapemeasure.com!
Visit FunkyTapeMeasure.com

Brush Baby
Brush Baby have a range of products to make brushing teeth fun and interesting for kids. From the colourful characters, fun flavours and sparkly disco toothbrushes, everything is designed to engage children's imagination and get them excited about dental hygiene. Our kids loved this stuff and are still using the toothbrushes today.
Getting Dental with Brush Baby!
BrushBaby at Amazon.co.uk

TrackR
TrackR is a handy little bluetooth button that links up with an app on your phone. If you lose the TrackR (attached to keys/remote/etc) you can make it chirp with your phone. Better yet, if you mislay your phone you can use the TrackR to set off a melody on it to find it again. It doesn't quite have the wow factor of its GPS-using cousins but then it's also nowhere near as expensive. Definitely a good stocking filler for the gadget lover in your life.
Playing Hide & Seek with the TrackR Pixel
TrackR on Amazon.co.uk

Firemizer
Firemizer is a handy metal mesh that sits in the bottom of your barbecue or firepit and, by increasing airflow and letting ash drop through, increases burn time and helps you get the most out of your fuel. We took one on holiday with us to Wales and really benefited from it, if only because having had a lot of trouble getting the fire started it was nice to have it for as long as possible. If you're still enjoying the outdoors in these colder months then this might be what you're looking for
Wales Blog 2017 – Firemizer!
Firemizer on Amazon.co.uk
That's it! We're looking forward to checking out even more cool toys, crates and gizmos over the next year. Thanks for checking us out and helping us grow since we started back in April. Don't wait till our 2018 round up! Sign up for email alerts (you can do that over there >>>) and you can catch our reviews, blogs and videos as they come out!
Disclaimer: There's affiliate links all over the shop here. Clicking them activates secrets (not really).